Cinder Road Interview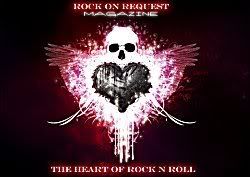 Does anyone reading this remember the days of arena rock? You know, the days of going to see bands like Def Leppard, Aerosmith, Van Halen, and Queen? During an interview a few months back I was talking to an artist about what seems to be a resurgence of real rock bands coming out of the woodwork and making their presence known on the current "modern music" scene. I have been feeling this trend coming back strong for a long time now. Some might even say I predicted it (okay, I just follow music news very closely), but I am very happy to be right.

One band I know who appreciates the days of arena rock is Cinder Road. In fact, they more than appreciate it....they emulate it every step of the way. Anyone who has ever been to one of their shows can attest to feeling like they've stepped back in time, back to a place that is long overdue in being revisited. With the general umbrella of rock music having so many sub-genres nowadays, it's great to see a band who does it the old-fashioned way. Cinder Road just plays pure rock and roll, and plays it well.

I had the opportunity to see Cinder Road play during their recent stint on the Daughtry tour. They grabbed my attention from the first chord played and held it to the end of their set. Frontman Mike Ruocco's on stage charisma and flawless vocals tore the roof off of the Lincoln Theater in Raleigh, North Carolina, and made every Daughtry fan in the joint take notice. That's the way to start off a show. A few weeks later I had the pleasure of talking with Mike for what turned out to be a great phone interview. Here's what he had to say:


ROCK ON REQUEST: Hi Mike. Are you ready?

MIKE RUOCCO: Sure, let's go.

ROR: I was going to ask you, you're from Maryland right?

MR: Yeah, Baltimore.

ROR: Do you guys know All Time Low?

MR: Oh yeah, definitely. My sister actually dates the lead singer, believe it or not.

ROR: I interviewed Alex last month.

MR: Oh cool.

ROR: Yeah, he's a nice guy. I know you have probably answered this a million times, but could you introduce our readers to the history of Cinder Road?

MR: I started a band called Plunge in 1995 and I played in Plunge up until this year when we changed our name to Cinder Road. In between then I played bass for a band called SR71 since 2002. On and off I was doing both projects, singing and playing guitar for Plunge and then playing bass and singing backup for SR71. Basically, Plunge just turned into Cinder Road. We had one member leave, we added Pat, and then we added Nat. Then we just became Cinder Road; it was basically the same songs but we took it as an opportunity to kind of start fresh.

ROR: You did say in a previous interview that it feels like a whole new band to you.

MR: It does; it's weird, I was in Plunge for so long. It was almost 12 years. It was like the only band I ever knew other than SR71, which was kind of a different thing altogether because it wasn't my songs; I was playing an instrument that wasn't my first instrument so it was a whole different ball game. SR was already established and successful by the time I joined. I kind of just jumped on after the fact and had a lot of fun with it. But this is different. We're releasing a new record; it's exciting. We got a new record deal and the big tour with Daughtry and some new guys. Obviously, I'd spent time in other bands, be it in Plunge or SR71 with the other guys, but Nat was a new addition even though we knew him from the local scene. But it felt brand new because we just started out fresh with a new name, a new record, and a new tour so everything felt new. It was really good.

ROR: It's very cool when everything gels like that finally.

MR: It was very refreshing because it's easy to get disheartened in this business.

ROR: That's for sure.

MR: Yeah; so we were lucky. New Year's Day is when we got the Daughtry tour and everything since 2007 started has been fantastic.

ROR: When did you sign with EMI?

MR: We signed with EMI in May of last year.

ROR: You say you have your first album with Cinder Road coming out in June, right?

MR: Yeah, June 19th is the street date.

ROR: How would you say that this album, 'Superhuman', compares or is different from what was put out by Plunge?

MR: I would say that 'Superhuman' is definitely more mature. I've grown a lot as a writer and we've had a lot more experiences as human beings. We've been able to talk about a lot more things; lived and learned, loved and lost and all that happy stuff. Then we kind of put it into song. I got to work with a top notch producer on the record, so sonically the record sounds 100 times better. The songs have grown; some of them were stuff that I worked on by myself at home. A lot of it Marti and wrote in the studio. We really got to make a real rock and roll record. It was a lot of fun and a big learning experience for me.

ROR: You mentioned Marti; Marti Frederickson, right?

MR: Yeah; Marti has produced Aerosmith, Ozzy Osborn, Faith Hill, Def Leppard. Having worked with those caliber musicians, icons you could say, it was awesome to be able to be in the studio with him; just working for one and having him help co-write the record was a huge thing. We really just hit it off from the first time we worked together. I think within twenty minutes we had written our first song. It was that kind of relationship from a songwriting standpoint. If I had an idea he finished it in a way that I would have hoped I could finish it. When he had an idea I would shout something out and he was right there with me.

ROR: That's very cool. I actually interviewed another band not too long ago that's working with Marti too. Everyone that I've talked to has had nothing but great things to say about their working relationship with him.

MR: He's an incredibly talented musician overall. He can play anything. He plays drums and sings like a bird. When you're working with someone that is awesome at everything they do it really pushes you to do better. What other band had you talked to that's working with Marti?

ROR: Still Standing.

MR: I know those guys really well.

ROR: We had a very long talk one night. Those guys have had a very long haul too, trying to make things work.

MR: I met those guys when they opened up for SR71 years ago in Scranton, PA. It was crazy. They were even a four piece back then if I'm not mistaken.

ROR: I think they may have been. Now it's just the three of them and they seem to really have gelled well.

MR: I see those guys every time I go to L.A.

ROR: They play so many shows, it's crazy. So I'm sitting here and I'm going through all your history; like you said, you've been doing this for almost 12 years now with member changes and playing with different bands. Now you have this thing going; Cinder Road seems like it's going really strong. Then you get this call from your manager and he tells you that you're going to do the Daughtry tour. Was that kind of surreal?

MR: Absolutely. Well, for one, without a doubt I was a little hung over because it was New Year's Day. I freaked out. I almost cried to be honest. I didn't cry, but I almost did. I wanted to.

ROR: It's okay if you cried. I won't tell anybody.

MR: You know, we've opened for a million different national bands and we've booked our own little tours through Myspace and stuff like that; a month here and a month there in these little rooms where you're playing for five people. I say this in almost every interview that I do, but this is the biggest thing that we've ever done as a band. You couldn't have found a better tour for us, from every aspect. The fans that were there were a perfect demographic for us. Daughtry's band and crew were all great to us. We became very good friends with them very quickly. Our merchandise did great. We felt at home on stage. We felt at home on the road. Everyone in this band, we're all road dogs. I really think there are two kinds of people; you're either born to be on the road or you're not and it's pretty black and white. The lifestyle is just so crazy, but the people that are going to do it just love it. We got home on Sunday from the Daughtry tour after having been gone for three months; by Tuesday the guys are going, "What's up? What are we doing?" We leave tomorrow, so we got about five days off.

ROR: I always wonder about that...

MR: We rehearsed two of the days and then we did an on-air interview and acoustic performance for 98 rock in Baltimore one of the other days, so we've been working the whole time anyways.

ROR: There's never a day off in this business.

MR: You take a day off and you're a step behind everybody else.

ROR: That's for sure. Then too, that's what you do. That's your life, your blood. When you stop moving around I bet you guys go crazy.

MR: Absolutely.

ROR: When I saw you with Daughtry at the Lincoln theatre the crowd loved you guys.

MR: We had a great time there. I've wanted to play the Lincoln for a long time. I said that on stage that night, because we've played Raleigh probably 7 or 8 times before we came through with Daughtry. We did The Brewery, we did The Poorhouse...

ROR: I love The Brewery. That's a nice intimate place to see a show.

MR: Yeah, we did both of those places a number of times. They were good shows. They were small shows, but we never had the opportunity to really get in and do a big show there. To come in with Daughtry and do a sold out show at the Lincoln was just awesome.

ROR: That was great.

MR: That just felt awesome.

ROR: Are you getting that kind of reaction everywhere on the Daughtry tour?

MR: Every night on this tour has been insane. I don't know whether it's the fans or whether it's the hype behind Daughtry? I don't know if they're just connecting with our music? It's just mayhem. Granted, there were a handful of nights here and again, which you get on any tour, that weren't as crazy as others. But it's been pretty nuts. Daughtry is the biggest thing in rock and roll right now for a new band. For us to be in those size venues with them; which for that band, as big as they are, were pretty intimate venues.

ROR: That really surprised me.

MR: They could, without a doubt, fill 3 to 5,000 seat venues.

ROR: Every show sells out within seconds for his tour.

MR: Yep.

ROR: I was going to try to go ahead just to do some coverage, but honestly at this point it's even tough to get a press pass to their shows.

MR: Oh yeah.

ROR: One thing that I enjoy, and I was telling this to Taki from Eve to Adam the other day, just going to a show as press to cover a certain band; you never know what the opening bands are going to be like. It's always a great thing for me when I get to see bands that I don't know that just blow me away and I really enjoy the show. That whole night, all three bands just really were incredible.

MR: Well I think it's a good package. I appreciate the compliment. I think it just worked. We all got along really great. It was a really good atmosphere. From a couple of nights in we were just buddy-buddy. It was surreal to me at first. I never get star struck, ever. There have been a couple of occasions in my life where I was a little bit star struck. I remember the second night of the tour, Chris is sitting on our bus and we were bullshitting until 3 or 4 in the morning drinking beers and having a good time. He got off and I'm sitting there with my guys and I thought, "Dude, we're here...this is it; this is what it's all about."

ROR: It's been a long time coming though.

MR: Oh my god yeah; totally. But it's funny because you're moving so fast, especially myself because I run the band and do the business; I do the accounting, the Myspace and the business aspect of it...

ROR: All the fun stuff.

MR: It takes up so much time. It's hard to sit back and take it all in and be like, "Damn, this is fucking awesome."

ROR: Sure. That reality check just comes at you and you're like, "Wow, this is what I've been working my ass off for all these years."

MR: Well, you know from covering bands that the business just moves so fast.

ROR: Oh yeah, definitely.

MR: You get to the show, you do sound check, you set up, you get ready, you do your show, you get off, you sign merch and then all of a sudden the night is over and it just flew by.

ROR: Right. Then you're on to the next day, the next everything else all over again.

MR: Another city.

ROR: New people, etc. I've said it many times to people who maybe don't get it, but nobody realizes how hard artists work.

MR: They think it's a big party.

ROR: Oh yeah, they think you're living the life; living the dream. They have no idea the kind of work that goes into it and they way you just bust your ass for 12 years until you can actually enjoy it, and then you're still busting your ass.

MR: Yeah. Well, we are living the dream to a degree because we're doing what we love to do. I think that's anybody's dream when you have to work, because you have to work. If you can do what you love it's all the better. Just because we love what we're doing doesn't mean you don't have to work hard at it.

ROR: Exactly.

MR: I think a lot of musicians are the same in that they work hard and they play hard too. It was great too because Chris and all the guys in his band are really down to earth guys.

ROR: That's what I've heard.

MR: He's a really good dude. I'm a huge, huge fan of Elvis. He set up a private tour of Graceland for me and my band; mainly for me. He went out of his way to call Lisa Marie and set it up. We took a van right up through the gates of Graceland and got a private tour.

ROR: What a nice guy.

MR: He came with us and when we got there he introduced us. Obviously, they were doing it for Chris Daughtry not for me. He was like, "This is the guy I set this up for. It's all about him." It was awesome. It meant a lot to me.

ROR: That's amazing. He seems like a great guy. One of the things I was talking to another artist about the other day was the comeback that rock and roll seems to be making right now, and the roll of the front man; running around shirtless on stage, having that whole kind of old school rock and roll feel. That's something that you seem to bring up there. Is that something that you've always done on stage; not just the shirtless aspect, but just that whole rock feel that you do now?

MR: Absolutely. Granted, it's evolved over time. It's been chiseled down into what it is today. You know, I'm 24 so when kids my age and middle school were listening to Green Day, Soundgarden and Nirvana I was listening to Def Leppard, Motley Crue and Bon Jovi. It never changed. "Hey, did you get the new Soundgarden"? "No. Did you get the greatest hits for Twisted Sister or Dokken?" That's what I was into. Granted, I still have a lot of those other records and I still respected them for what they did. In the 80's rock and roll was about entertaining.

ROR: It was very theatrical.

MR: Pyro, the stages, the whole thing. Buses, private jets, all that stuff. That's what we want. That's what we want to bring back. We want to entertain people. I can't stand it when bands preach on stage; I hate it. Politics, religion or whatever; believe what you want to believe in your own person life.

ROR: I couldn't agree more. I think that's one of the things that I loved so much about the show the other night. That was the feel of the whole show; it was a rock show. That's all the stuff that I came up with, listening to Aerosmith and Van Halen. That's what I loved to go see. Just the whole rock feeling that I think was lost for awhile there; it really seems to be coming back strong.

MR: And it's only going to get stronger because, you know, back in the day you had to have Quiet Riot and Ratt before you could have Bon Jovi and Guns 'n' Roses.

ROR: Right.

MR: Somebody had to be the Dokken's and the older of the 80's bands, the hair bands if you want to call them that. They had to happen. I almost compare that to Hinder coming out. Even a lot of bands that came out a couple of years ago like The Vine, The Hive and The White Stripes almost remind me of The Knack only heavier. We're just making that cycle again.

ROR: I'm really glad to see that happening.

MR: Me too because that's what I grew up loving and I've been fortunate enough to work with some of those guys. I got to write with Matt Soram and Duff Mackegan. I wrote a song with Janey Lane. This was all incredible experiences for me.

ROR: Speaking of other bands, you mentioned how well you got along with everyone on the Daughtry tour. You've played a lot of shows and been on a lot of tours in the past. Did you ever have experiences where you're traveling with other bands and you just did not get along?

MR: That really hasn't happened yet. There have been bands locally that didn't like us. I think that anytime that you dedicate your life to music; I didn't care about school, I didn't care about parties, I didn't care about souping my car up or senior week. I didn't care about any of that stuff. When I was in high school I was playing five nights a week.

ROR: That sounds like All Time Low.

MR: They opened up for us when they were 13 years old. They did the same thing. That's what's great. You're going to have people who don't like you because they're jealous.

ROR: Of course.

MR: As far as the jealousy thing, that happens a lot.

ROR: Right. That's when you know who your real friends are.

MR: We're the only local band with a major label deal. The only ones. I wouldn't be surprised if All Time Low didn't end up getting bumped up to a major.

ROR: Neither would I. They really kick some ass on stage.

MR: Yeah. They've sold of ton of EP's on the road and that's what those indies want you to do. We kind of felt like a major label was the only way to go for us.

ROR: It's always good to hold out for what you feel is right for you. A lot of bands don't do that because they just want the deal.

MR: It's a constant cycle of let downs and you just have to get used to it. I'm still getting used to it. Even when you get signed; you think when you get signed that you get money and it gets easier and that they start doing the work for you. It's actually the complete opposite.

ROR: That's true.

MR: You still have to do everything for yourself, you still have to do the work. You have some partners and a lot more people that have opinions about your music.

ROR: There are a lot more hands in the pot.

MR: Oh yeah.

ROR: Sometimes there is a little less creative control than you would like to have.

MR: Fortunately for us, and I will defend the label on this point, they did not interfere with us in the studio at all.

ROR: That's awesome.

MR: Our manager came in and he's like, "What about this? What about this?" Then we'd try it and if we liked it we liked it and if we didn't we didn't use it. We made our own record.

ROR: I wanted to talk to you about your music video. You're going to be shooting the 'Get in, get out' video pretty soon right?

MR: Yep. We're shooting it in L.A.

ROR: That's awesome. Can you give me any hints on the concept of the video?

MR: It's kind of about the eternal struggle between the relationship with the girl and the relationship with the band. They're both relationships and both are equally important. It's going to be about the struggle with that. It's going to have a lot of shots of the band guys and myself kind of rehearsing and doing what we do. Then it's going to break to shots of me with this chick that obviously is a source of contention for the band. It's about what decision do I make by the end of the video.

ROR: I have an opinion; well, I don't know if it's an opinion or a belief. I think it must be incredibly difficult to sustain a relationship being in a band and being on the road because you're married to the band.

MR: If you want to make it, yeah.

ROR: Absolutely.

MR: You have to have a strong partner, that's for sure. It takes a lot of trust; a lot of confidence.

ROR: Are any of you guys dating?

MR: Pat is married. He's the only one that's married.

ROR: That must be really hard.

MR: Yeah, it is. He's actually expecting his first child tomorrow. So yeah, it is at times; he flew home every chance he got. The rest of us, we date and we don't date. We've all had very committed relationships before. It's just a matter of, some last and some don't.

ROR: Absolutely.

MR: You hope you have a partner that's strong enough to stand by you. If you don't then they won't be there.

ROR: That's the sad truth. Let's talk about your fans for a minute. I understand that with Plunge you had a very dedicated fan base going. Has that continued with the change over to Cinder Road? Are your fans moving along with you?

MR: Yes and no. I mean, for one I think the word is still getting out that Plunge has become Cinder Road. Like I said before, on New Years Day we got this tour and we changed the name of the band two weeks after that and a week after that we left for the Daughtry tour and we have not been home. We haven't played Baltimore yet. We have so much going on for the band nationally that I think some of the local fans are still catching up. I think they'll definitely all come though. They're not going to abandon us by any means.

ROR: I wouldn't think so.

MR: We sent out the bulletins and really turned back the Plunge Myspace, so that's kind of non-existent. We're incredibly active with our new fans. We did what a lot of new bands did back in the day. We tried using a friend adder thing. When you have a new face to the band it really says something about who your true fans are. We're incredibly impressed with the reaction that the fans have had to us so far because we had the Plunge Myspace for years; we had something like 17 or 18,000 fans. Some of that was promotion and some of it wasn't. With the Cinder Road site, we started that in January and we already have about 5,000 fans. It's true audience reaction. A lot of bands and a lot of people in general, if they're models or artists or whatever, they try to pump the requests up. When we did this site we decided we weren't going to do any of that. We wanted to see what's really going on.

ROR: I think that's a good idea. I think as you keep going on through this tour, you're going to be doing this through June correct?

MR: Yeah.

ROR: That's when people are going to come home after seeing you and want to know more. And word of mouth from new fans to their friends; that's when you get that true feeling of who your fans are.

MR: Exactly.

ROR: You talk to your fans after the shows, right?

MR: We sign after every single show.

ROR: That's cool. It's hard to keep that up when you blow up huge, but it's cool if you do it while you can.

MR: Well mark my words, we will do that. I see bands that do it. There are a lot of reasons to do it. Number one it really gets you personally involved with the fans, which is what they want. Number two, it doubles or triples your merch sales. This is a business. If I can see that by us standing out there and taking a bunch of pictures, which we enjoy; taking pictures and signing autographs. Who wouldn't want to do that?

ROR: I think that's so much fun to be a part of and to see.

MR: We love it. If you have a great show the fans will pump you back up. If you're not having a good day it will make you feel better. For us to do that it's just all part of the game, and we love doing it. It helps the merch, it helps the fans; it helps it all. I never understand the bands that don't do that, unless it's risking your personal health.

ROR: I don't either, personally.

MR: Chris does get bombarded when he goes out. But if he has a security guy and it's organized it can be done. He did do it from time to time.

ROR: There is a band that I've interviewed that is having probably the best year career wise; they're very popular. They have a very public figure as a front man. They sign no matter what. They're out there just communing with their fans at their bus.

MR: Are you talking about 30 Seconds to Mars?

ROR: Of course.

MR: Our tour manager was their stage manager for awhile.

ROR: They do that regardless, no matter how big they get. They understand the value of it, and I think their huge fan base is a testament to it. Especially having Jared in the lead, that brings a whole slew of people out there.

MR: He's done a good job, I think, of separating the music and the movies.

ROR: I think so. I think he's the only one who has done it really.

MR: Everybody under the sun, I'm sure, first thought he was just an actor with a band.

ROR: Preconceived notions, not really knowing that he was a musician first.

MR: Right. They're really good. I've seen them a couple of times and I've always thought... I was really impressed. I went in without any certain expectations. I was just like, "Let's see what they got." I was very impressed. Jared was crazy as a front man, which is good; and he can sing his ass off.

ROR: He can. They are actually one of my favorites to cover because they just put on an amazing show. They're nice guys on top of it. I wanted to talk to you about what's going to go on with you guys after the Daughtry tour. Your CD hits stores in June correct?

MR: June 19th.

ROR: Then your tour with Daughtry will be over. Do you have any plans after that?

MR: We plan on being out on tour for the entire year. We've submitted for a bunch of different tours, so we're just waiting to see which one we're going out on. We're waiting to see how the single reacts. It's a waiting game but we will definitely be out on the road.

ROR: I'd love to see you guys again, so I hope you'll be coming my way again soon.

MR: Definitely.

ROR: I'd like to finish with some random questions. These are just for fun, are you up for that?

MR: Sure.

ROR: You've heard that old saying when it comes to weddings that the bride needs something old, something new, something borrowed and something blue?

MR: Yep.

ROR: If you had to pick one of those items, which one would you pick and what would that item be?

MR: I'd take one of Elvis' old jumpsuits from the Vegas days.

ROR: I like that. Okay, if you could front one classic rock band for a one night only show, which band would it be?

MR: Aerosmith.

ROR: I love it. That's my favorite rock band of all time right there.

MR: I can't sing like him, but I'd try.

ROR: You sing just fine Mike, trust me.

MR: Thank you.

ROR: Do you or does anyone else in the band have any freaky phobias?

MR: No, nobody is scared of spiders or anything like that. Nothing that I'm aware of.

ROR: No clown phobias or anything like that?

MR: Our tour manager is afraid of clowns. None of us in the band have anything unusual.

ROR: What is your idea of a perfect last day on earth?

MR: If I were to wake up, check my e-mail, see that the song was #1 on the Billboard charts, check my bank account and see that there was a million dollars in there, take my limo to a sold-out show at the Baltimore arena, put on a great concert and then come home to my mansion and go to bed.

ROR: That's a pretty good day; I'm not gonna lie to you.

MR: I would think so too.

ROR: Okay, is there anything that you would want to tell our readers that we haven't talked about?

MR: Check out the Myspace. We put up video tour diaries all the time. We're very active on our page and we're looking forward to seeing everybody soon.

ROR: Thank you so much. I appreciate the time.

MR: Thank you; it was a good time.